Da una settimana a questa parte c'è stato parecchio tranbusto in rete per una dichiarazione fatta dal CEO di Opera ASA in un'intervista per il New York Times, in cui dichiara che è stata sviluppata una versione di Opera Mini per l'iPhone, ma che Apple non ne ha concesso il rilascio perchè competerebbe con Safari, il browser della mela.
Mr. von Tetzchner said that Opera's engineers have developed a version of Opera Mini that can run on an Apple iPhone, but Apple won't let the company release it because it competes with Apple's own Safari browser.
Facile immaginare come la notizia abbia scatenato rapidamente un gran trambusto su portali, blog e forum di ogni tipo, con accuse ora all'una ora all'altra società, ma senza che in realtà ci fosse un'idea ben chiara di come effettivamente stessero le cose.
Mentre inizialmente l'idea diffusasi era quella di uno spirito anticompetitivo ed ostruzionistico da parte di Apple, successivamente è emersa una nuova voce secondo cui Opera non avrebbe mai presentato il suo browser per l'App Store e, se anche l'avesse fatto, sarebbe stato comunque inutile per via della tecnologia su cui si baserebbe (Java), non disponibile per il famoso gioiellino Apple. Cosa anch'essa subito respinta dallo stesso Haavard con la giustificazione che la società norvegese è ben nota proprio per le sue capacità di sviluppo piattaforma-indipendente che le hanno sempre permesso la realizzazione di porting su qualunque dispositivo e sistema senza troppe difficoltà.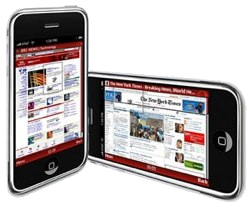 Qual'è la verità dunque? Personalmente non ne ho davvero la minima idea… difficilmente credo sia stata solo una manovra di marketing ma, allo stesso tempo, non ho nemmeno alcun elemento per dire il contrario… ognuno tragga le proprie conclusioni.
Aggiornamento: (sta diventado un'abitudine 😛 ) Su Choose Opera è apparso un articolo che chiarisce la situazione. Trovate il link in fondo.
Links: